Weh Island / Pulau Weh
Weh Island, also known as Pulau Weh is a beautiful untouched island, surrounded by healthy, gorgeous coral reefs. The island is located northwest of Sumatra at the entrance of the Malacca Strait. This makes the island a popular stop for cruise ships and yachts. Weh Island is a popular diving destination, and it has a variety of dive sites like the legendary Sea Garden in Rubiah Island, where you can dive with instructors. While diving, you might see some beautiful sea creatures like whale sharks, dolphins, sea turtles and manta rays. Although the west side was severely damaged by the 2004 tsunami, the east side and Rubiah island still retain their beauty. The devastated corals on the west side are slowly recovering now.
Weh Island also has a waterfall in the rain forest. Weh Island is a small island, but truly a paradise.

Snorkeling right in front of "Casa Nemo", at the east coast of Weh Island
What to do at Weh Island / Pulau Weh
Diving and snorkeling are the most popular activities at Weh Island. You will find a lot of dive masters and instructors who will be happy to accompany you on your diving trip. The current at Weh Island can be strong sometimes, so make sure you are always with a dive instructor if you are a beginner.
The capital city of Weh Island is Sabang, a great town to explore, where you can find the sign saying 'Indonesia Nol Kilometer', which is the Zero Kilometer of Indonesia. If you are interested in the marine life, you should check out Water Front Resort, also in Sabang.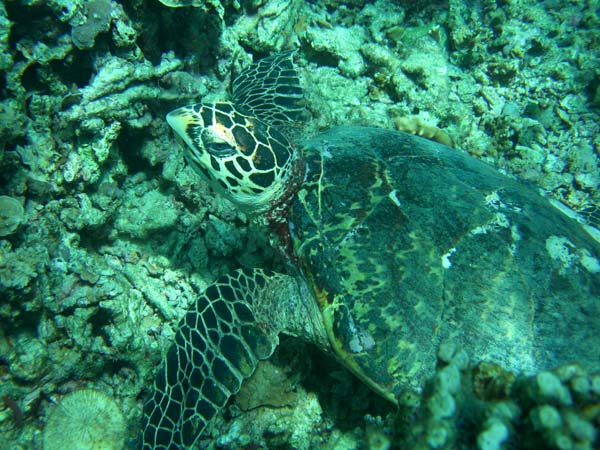 Marine life is abundant at Weh Island
If you like shopping, you should visit some traditional markets, where you can buy delicious snacks and fresh fruits.
You can also visit a volcano, hot springs, Japanese bunkers from World War II, the waterfall, the historical graveyard and Durian Keramat (sacred Durian - one of the most sacred places on the island).
Where to sleep at Weh Island / Pulau Weh
On Weh Island, you will always find a good hotel, no matter what your budget is. If you like it simple, try a basic wooden hut. If you want your stay to be more comfortable, a bungalow will be better, although they tend to be pricey.
You will find a lot of hotels at Iboih Beach. This beach is popular among backpackers and divers. Dive centers, bungalows and open air cafes are located here, and everything is affordable.
Some great guesthouses to stay at are Casa Nemo, Freddies Santai Sumurtiga, Yulia Guesthouse, O'ong Guesthouse, Ayub Guesthouse, Erick Guesthouse, Fina Bungalow, Anna Bungalow, Mamamia Bungalow and Fatimah Bungalow.
Another beach close to Rubiah Sea Garden is Gapang Beach, also famous among divers. Here you can stay at for example Gapang Jaya and Ramadila.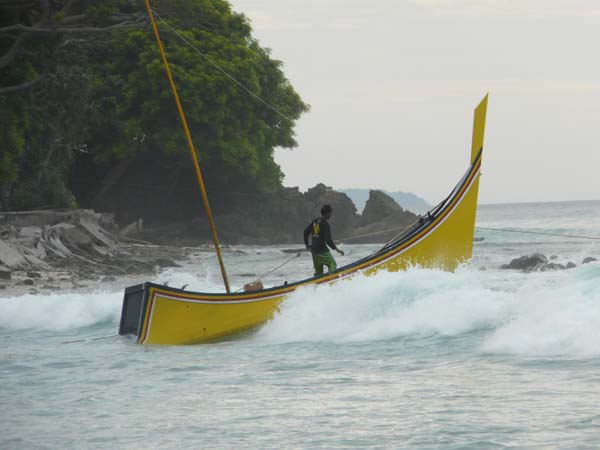 Fishing boat at Weh Island, Sumatra
Weh Island / Pulau Weh places to eat
At Weh Island, it is of course very easy to find sea food dishes. Some places you should really visit are Bungong Sakura at Ujong Kareung, Dang Dang Na, Mama's Jungle, Naguna and Coco's Café at Gapang, or Olala, 7 Bungalows and Chill Out at Iboih.
Shopping in Weh Island / Pulau Weh
When you go souvenir shopping, you will find some souvenirs handmade from coconut wood, great for giving to family and friends or keeping for yourself.
At traditional markets you can buy fresh tropical fruit and Indonesian snacks and side dishes. Try some dodol (sweets made of flour, palm sugar and fruit), chips, cake and bread, which are the specialty of this island. The best time to visit the markets is in the morning when its very busy and lively.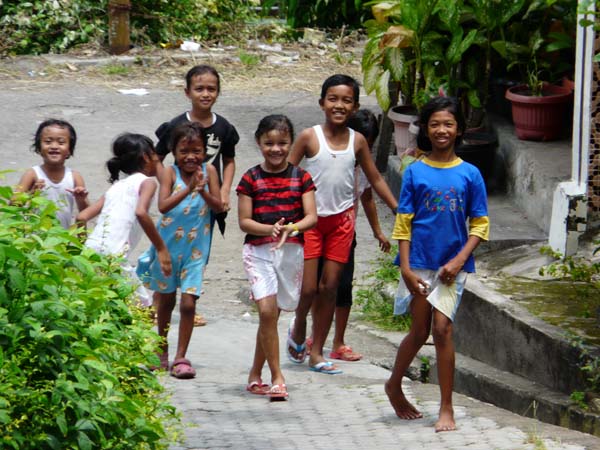 Playing kids at sleepy Sabang town, Weh Island
Getting around in Weh Island / Pulau Weh
To get around in Weh Island, you can take minibuses, pedicab and becaks or rent a motorcycle. If you want, there is also the possibility of renting a car. The best way to explore the beaches and Sabang is by walking, but you can also rent a taxi.
How to get to Weh Island / Pulau Weh
If you are traveling from abroad, you can take an airplane to Banda Aceh. If you come from Medan, you can go to Banda Aceh both by bus or plane. Once you've arrived in Banda Aceh, you have to take a ferry in the morning. The ferry departs from Ulee Lheue Sea port, and it arrives in Gapang beach. This trip will take a couple of hours. If you don't want to travel that long, you can also use a speedboat, which will take around 45 minutes.
Weh Island travel tips / Pulau Weh
Most of the locals are Muslims, so modest clothing is preferred. You can dress casually while still respecting the locals.
Some dive operators at Weh Island are: