Bukit Lawang
Bukit Lawang is a small jungle village. Bukit Lawang literally means 'door to the hills', and it is located south of the Mount Leuser National Park. From Bukit Lawang, you can discover the Sumatran jungle and look for orangutans. It is around 90 kilometers from Medan to Bukit Lawang.
Bukit Lawang is great for exploring the Sumatran jungle. It is a very thick jungle, with muddy slopes and slippery terrain. Most people visit Bukit Lawang to see the orangutans. It is one of the best places in the world to do so. With around 5000 orangutans living here, it is one of the largest orangutan communities.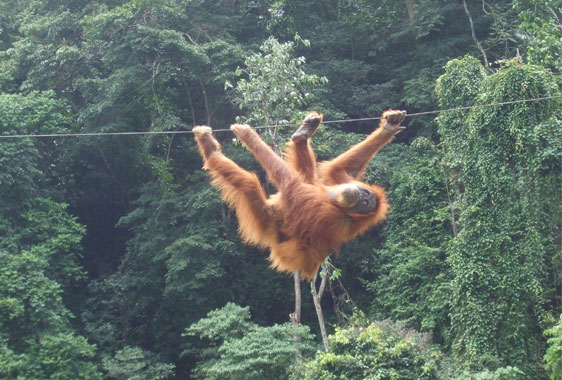 Orangutan crossing the Bohorok river at Bukit Lawang
At the Orangutan rehabilitation center, you can look at young orphan orangutans. At the rehabilitation center, they will be prepared for their life in the jungle. It has been around since 1973. The rehabilitation center is very important, because the orangutan is an endangered species due to hunting, animal trading and damaged environment. The center helps the orangutans by training them before releasing them, and after the release giving them food supplements and check-ups.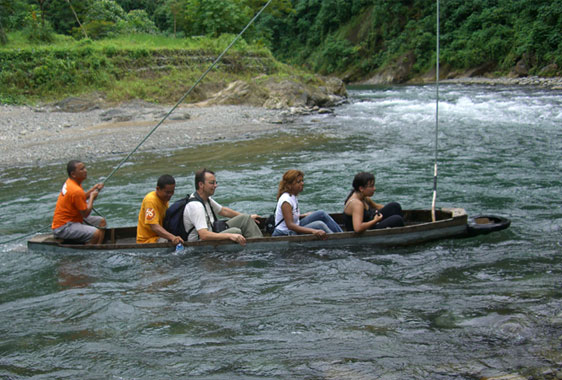 Crossing the Bohorok river at Bukit Lawang, human style
What to do at Bukit Lawang
Most visitors make a two-day trek, so that the chance of seeing an orangutan is bigger. Since it is very dangerous to enter the jungle on your own, please make sure you have a guide when you make a trek. The price of a guide includes simple meals, guide fees, permit and camping equipment.
Also make a visit to the bat cave, but do this in the morning, so you don't miss a moment of your time in the jungle.
If you don't want to stay in the jungle for a few days, you can always go on a trek with a guide for just a couple of hours. And if you don't want a guide, there are some walks you can do around Bukit Lawang, where you won't need a guide.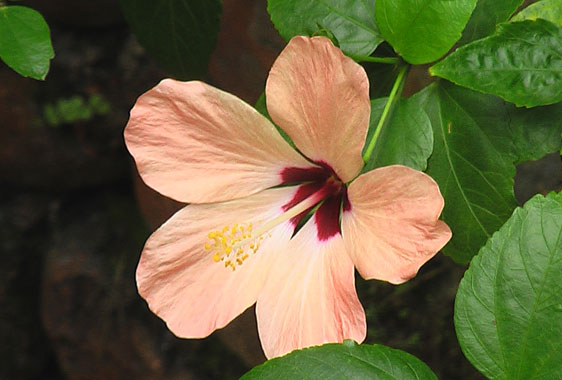 Beautiful hibiscus flower in Bukit Lawang rainforest
Another fun thing to do is rafting on the rapids of Sungai Bohorok. Please only do this with a profressional guide, since the rapids are really strong.
It is prohibited to feed the orangutans, except for the two feeding times, at 8.30 am and 3.00 pm. The rehabilitation center will supply food like bananas for you.
When entering Mount Leuser National Park, everything you do should be guided and permitted by the staff of the rehabilitation center.
If you're adventurous, you should hike to the top of Mount Leuser, which is 3404 meters high. This will take you around 10 to 14 days. A good starting point is Angasan, a small village. The first five days of the hike you probably will see some rare primates. If you want to do this hike, you should be in good condition and need to be accompanied by a guide.
Where to sleep at Bukit Lawang
A lot of the hotels in Bukit Lawang are run by local citizens. If you want to stay in an eco-friendly hotel, you should stay at Bukit Lawang Eco Lodge, which is located in the forest.
Noras Homestay is also a good hotel, it is situated on a rice field, and you sleep in nice bamboo huts.
Some other good hotels are Garden Inn, Wisma Bukit Lawang Indah, Jungle Inn, Wisma Leuser Sibayak and Indrah Valley.
Bukit Lawang places to eat
At most of the hotels in Bukit Lawang, there are restaurants. If you don't like eating in the same place all the time, there are a few cafes along the river as well, where you can get some delicious snacks, fruit and nasi goreng. Craving pizza? Check out Tony's restaurant.
Shopping in Bukit Lawang
Souvenirs can be bought near the Bohorok river, in a little shop.
Getting around in Bukit Lawang
When you are in the jungle, you can only get around by walking. When you are trekking, you have the possibility of seeing some of the Sumatran wildlife, like elephants, tigers, sun bears, gibbons, clouded leopards and orangutans. When you are walking on the hills, you will have an incredible view on the landscape of Bukit Lawang.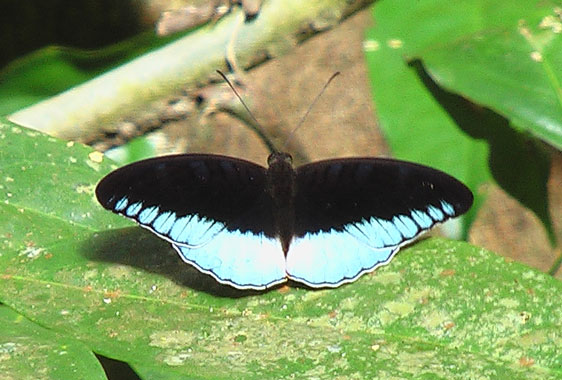 Beautiful morpho butterfly in the jungle of Bukit Lawang
How to get to Bukit Lawang
When you depart from Medan, you can use a bus or car to get you to Bukit Lawang. You can take the bus from Pinang Baris bus terminals, at Jalan Gatot Subroto. It will take you approximately 3 hours.
Are you traveling in a group or do you just want to have a more convenient trip? Renting a car is the best option, as you can opt to book an arranged trip which will take you through the main tourist destinations. Or you can just rent a car at National Car Rent at Jalan Balai Kota 2.
Bukit Lawang tips
Always bring a mosquito repellant.
Don't forget to bring water and sunscreen when you trek.
Make sure your shoes have good grip, the ground in the jungle is always very slippery.
Wear clothes with long sleeves and long pants
Bring a rain jacket and water resistant bag as it can rain heavily.
Make sure you do not leave any trash in the jungle.
Do not feed the animals, unless you have permission.