Medan
Medan, capital of North Sumatra
Medan is the capital of the province North Sumatra. Nowadays, the city is the centre of the rubber culture and of the famous tobacco area of Deli. Medan is a modern constructed city with wide streets. Just like almost all Indonesian cities, Medan is at bursting point, and traffic chaos is everywhere. Especially motorcyclesg with sidecar, the so-called "becak motor" (pronounced "betjak") cause a high degree of air pollution. This is the way to move in Medan, even though you will get the feeling of coming loose of the bycicle in sharp bends when you are sitting in the sidecar. Before the break-through of motorized traffic, Medan was a pleasant city to live in, with its wide streets and rich architecture. Despite the current housing shortage, traffic chaos, deficient sewerage and a lack of facilities, a lot of Sumatrans still come to Medan every year to search for happiness.
Sightseeing in Medan
Mesjid Raya, beautiful mosque at Medan
The Mesjid Raya, the big mosque of Medan, dates from 1906 and is built in Rococo-style. The architect was the Dutch A.J. Dingemans. Next to the building is a big pond. The mosque is open to the public, outside of praying times. You need to be dressed properly to enter.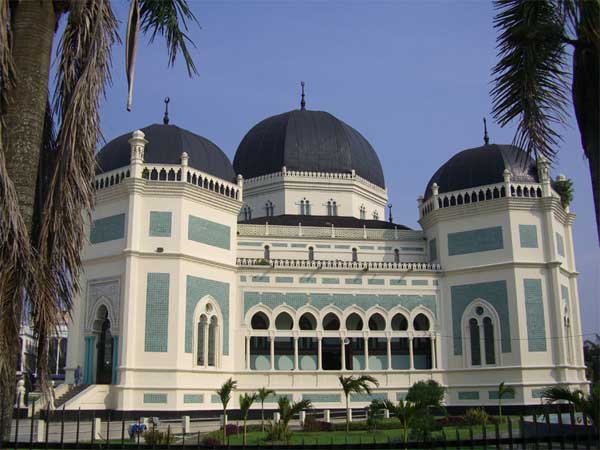 The beautiful mosque at Medan is open for public - outside of praying times.
Maimoon palace
Another place of interest in Medan is the Maimoon palace of the former sultan of Deli, which was built in 1888. The palace, in which the sultan still lives with his family, is made public. You can look at photo's of, amongst others, earlier sultans in Dutch officers uniform, paintings, furniture and weapons from the colonial period. The throne of the sultan looks like a fairytale from Arabian Nights, with its mysterious canopy. It is still used for Islamic holidays, when the bigwigs of Medan have an audience of the sultan.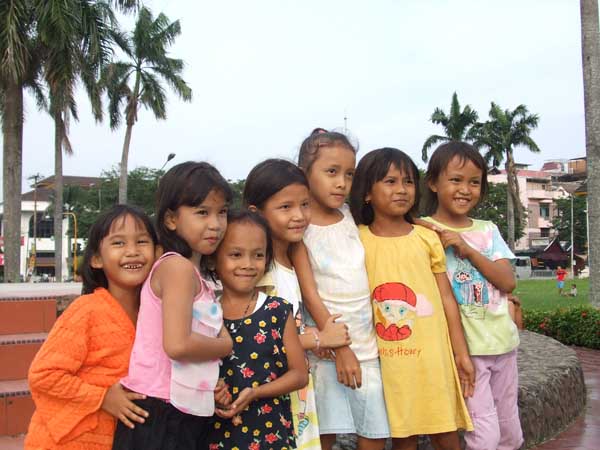 Children, having fun in the garden of the Maimoon Palace at Medan.
Colonial buildings
The old colonial buildings of Medan, of which most are in Amsterdam school-style, remind of the time of the Dutch planters. The biggest concentration commercial buildings from the colonial period can be found along the Lapangan Merdeka, the old square from the colonial period and Jalan Jendral A. Yani. The old Deli headquarters still exists, but it is somewhat decayed. It can be found behind the Darma Deli Hotel. The former office of the HVA (Handelsvereniging Amsterdam - Trade Association Amsterdam) can also be found in Medan. This company mainly managed the rubber plantations. This beautiful building, which nowadays holds the inscription Perkebunan IX above the gateway, was built in 1869 by the Dutch planter Nienhuys. The old office nowadays holds an agricultural institute.
The main post office, the former White society (now the Bank Negara), the estate offices of Harrison & Crosfields (now P.T. London Sumatra) and Hotel de Boer (now the Natour Dharma Deli Hotel) are well preserved. The last hotel was an important place for the planters. During the two monthly hari besar (big day), the day off that followed the payday of the coolies, the planters would come together at this hotel to have an Indonesian rice table and exchange news. The Immanuel church from 1921 can be found along Jalan Diponegoro. The protestant church is a good example of art-deco architecture.
Vihara Gunung Timur
Indonesia's biggest Chinese temple, the Vihara Gunung Timur, can be found along the Jalan Hang Tua. Taoists and Buddhists pray in this temple. People believe that the power of the inner temple is so big, that photo's are doomed to fail. It is hard to test this, since taking photographs in the inner temple is prohibited. The Buddhists of the town have another temple; the Vihara Borobudur, next to the Danau Toba Hotel.
Graha Maria Annai Velangkanni Medan
Graha Maria Annai Velangkanni (Our Lady of Good Health) is a beautiful Catholic church, built in 2005 by a priest of Indian descent. Resembling a Hindu temple, this is a beautiful example of multiculturalism. It is situated in the small road Jl. Sakura III besides Jl. Simatupang at Medan's Sunggal district.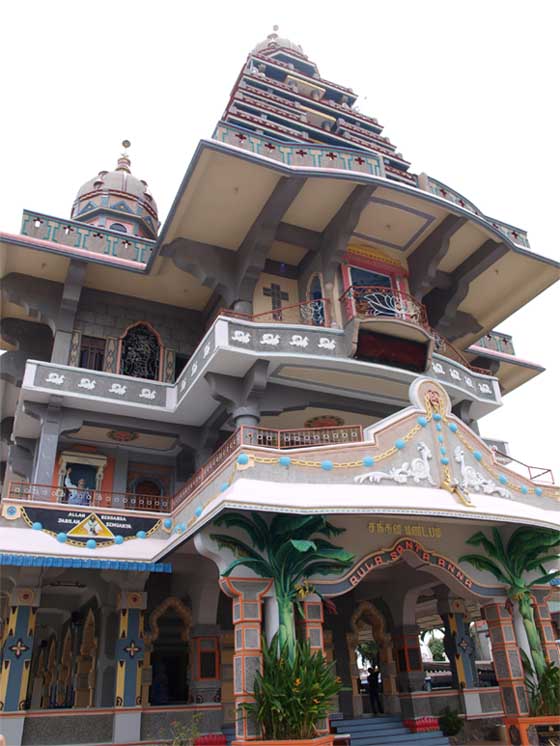 This Catholic church in Hindu style can be found at the Sunggal district of Medan.
Medan Zoo
Medan also has a zoo, the Taman Margasatwa, which houses various Sumatran animal species. Not recommended for animal lovers, since the animals here live, just like in all the other zoos in Indonesia, in appalling conditions.
Bukit Kubu Museum
To get an impression of different Sumatran tribes and their lifestyle, a visit to the Bukit Kubu museum is recommended.
Museum Negeri
Soak up some culture and educate yourself about Indonesian traditions with a visit to Museum Negeri at Jalan H.M. Joni 51. Here you'll find a fascinating collection of archaeological relics from 12th century South Indian statues to remains of an Islamic nisan or gravestone.
The old Fort
Furthermore, it is worth paying a visit to the old fort from 1873 in which the city garrison was based.
Crocodile farm
See some of natures most terrifying creatures at the Crocodile Farm at Asam Kumbang, located about 10 km from the heart of the city of Medan. This farm has over 2,500 crocodiles of different sizes and species. Come here during feeding time (4:30 pm) to see these fierce reptiles use their sharp teeth to cut their lunch to shreds. Learn more about these animals and follow their stages of development. Souvenirs made of crocodile's skin are also sold here. The farm is open from 9:00 am - 5:00 pm. Entrance fee (2010): Rp 5,000.
Hotels in Medan
Medan has a lot of hotels, in different categories. In the lower price range, Hotel Berastagi (Jl. Jend. Sudirman 24/36) and Guesthouse Medan (Jl. Agenda 37) are a good choice. The better hotels of the city are located in the heart of Medan, like Natour Dharma Deli Medan (Jl. Balai Kota 2), previously Hotel de Boer, the Polonia Hotel and the Danau Toba International.
Where to eat in Medan
Food in Medan is known to be hot and spicy, like most Sumatran food. But since Medan is so big, you will still be able to find a place where you can eat if you don't like spicy food that much. In Medan you can find various restaurants, from Chinese, Japanese and Korean to cheap warungs that serve local Indonesian food.
On Jalan Jenderal Ahmad Yani, the colonial main street, you can find the famous Café Tip Top in its original building. It is a lovely place to sit and have some Dutch cookies or lovely icecream.
You can also buy food from one of the many street vendors in Medan. Those street vendors offer a great variety of traditional cuisine, and while they may not look fancy, the food they sell is delicious and cheap. You should definitely check out Jalan Selat Panjang, the popular food street that comes alive at night.
Another place where you can have some good food is Merdeka Walk. Merdeka Walk is the first Tensile Structure (Alfresco Outdoor Concept) in Indonesia, and one of the most popular places in Medan with lots of cafes and restaurants.
One of the most popular fruits in Indonesia, and especially in Medan, is durian. Durian is a thorny fruit with a very characteristic taste and smell. You can find durians all over Medan. If the durian tastes too strong, you can always try a durian pancake.
In Pasar Rame beside Thamrin Plaza, you can find some delicious dried fruits with sugar to snack on.
What to buy in Medan
Medan has a lot of shopping malls, like most big cities. Here you will find everything from mobile phones to shoes.
Jalan Yani is a nice place to browse antique shops, which sell all kinds of Batak, Acehnese, Minang and Javanese antiquities.
If you're looking for clothes, you should check out Monginsidi Plaza or 'Monza', as it's known by locals. These vendors mostly sell Indonesian sized clothes, but even if you're larger, it is still a lot of fun looking at how local people dress themselves. If you want to buy something, don't forget to bargain!
Medan also has a Chinatown, around Jalan Sutomo. Here you will find things like heavy machinery and toiletries. Make sure you watch out for pickpockets since this is common in Chinatown.
Medan is known for making the best bika ambon in Indonesia. Bika ambon is a tasty cake made of rice flour. If you want to try some, you should visit Jalan Majapahit, where you can also buy marquisa syrup.
Getting around in Medan
Getting around in Medan is easy, you can choose to travel by public bus, taxi or becak. The sudako (local minibuses) are cheap and basic. It is recommended to only use these if you have some knowledge of bahasa Indonesia, because it can be difficult to communicate and navigate otherwise.
You can also travel by becak. A becak is a tiny vehicle and is cheap too. It can be nerve racking to be travelling with a becak. Don't forget to decide on a price with the driver before you get in.
Taxi's are very cheap and convenient as well. Make sure the cab you use is metered. If it's not, decide on the price and destination with the driver before you get in.
Getting to and from Medan
By plane
The first contact with Indonesian soil for most people is Polonia, the international airport of Medan. In front of the arrival hall, some modern fountains in the shape of airplanes are placed. From Medan, a lot of domestic flights are carried out daily. Obviously, you can fly from Medan to Padang, Jakarta and further. Polonia airport will be replaced by the new, larger and better equipped Kuala Namu airport somewhere around 2012 or 2013 (you never know exactly in Indonesia). This new airport will be located at the east of Medan, a bit more convenient for travelers to Lake Toba. Construction is almost finished (april 2012), but the road towards the new airport is still under construction.
By boat
Belawan is the port of Medan. From here, passenger ships depart from Pelni to all directions. Until 1921, the port of Belawan was only sailable for ships of the Koninklijke Pakketvaart Maatschappij (Royal Packageservice Company). In that year, the entrance gully was deepened. The Netherlands was the first country that entered the port with a mailboat. This was a big relief to the planters of Deli, who had been very isolated until then. Already in 1923, there was a weekly connection with the Netherlands and Java. When the regulated air services in Medan by the KLM and KNILM opened in 1930, the area would never be isolated again.
By taxi
You can take a taxi from Medan to almost everywhere. Minibuses are also available, and these are cheaper than real taxis. Haggling is recommended. Do not expect a lot of comfort with the minibuses, as there are no safety belts et cetera.
By train
It is also possible to travel by train. The train is called 'kereta api' in Indonesia. It is not very far from the international airport Polonia. The Medan train station is connected to train stations in Tebing Tinggi, Tanjung Balai, Rantau Prapat and Pematang Siantar.
By bus
Buses run every 30 minutes in Medan, all day long. Buses are very cheap, you can get on them for around 25.000 rupiah per person.
The most beautiful route to Lake Toba is via Berastagi. The route Medan - Berastagi - Kabanjahe - Lake Toba was first used in 1907. Back then a few Spijker cars succeeded in reaching Kabanjahe from Medan, with a little help from hundreds of coolies. Along the road to Berastagi, a lot of stalls can be found that sell the fruits of the season. Durians, mangistans and rambutans are bound together to form bright red bunches. These sort of stalls are perfect for discovering the exotic fruits of the island. Do not stop at the stalls where all sorts of animals are chained. Originally, only flying foxes (these kalongs, as they are called by the Indonesians, can be eaten) were being sold there, but due to the great amount of tourists that stops here when the pass by, a lot of rare animals were caught that can be photographed for a fee. Please do not do this, as this causes a lot of suffering for the animals.