Bukittinggi
Bukittinggi, which means 'high hill', is West Sumatra's cultural center, and can be found in the highlands north of Padang in the Agam valley. Bukittinggi is a lively market town.
Bukittinggi's climate is refreshingly cool, even though it is not far away from the equator. This is because it is over 900 meters above sea level. It rains often, but this doesn't stop travelers from enjoying the most hospitable city in Sumatra.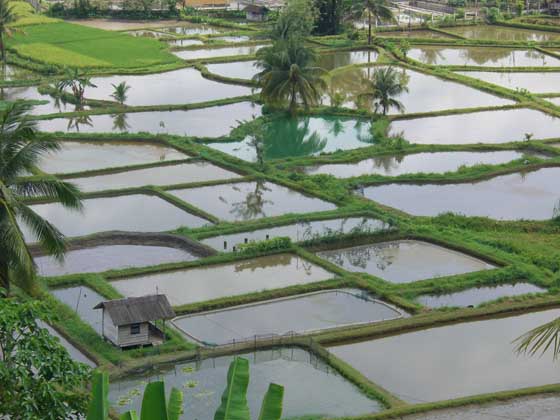 Beautiful ricefields near Bukittinggi.
Bukittinggi is also called Tri Arga, because of the three mountains that surround Bukittinggi.
The giant rock cliffs just outside of Bukittinggi with trees on top and the surrounding mountains make Ngarai Sianok Canyon a noteworthy place to visit.
If you don't want to follow the average tourist trail, Bukittinggi is an ideal place to go. Not many people use Bukittinggi as a base for hikes or cultural tours to the Minangkabau highland.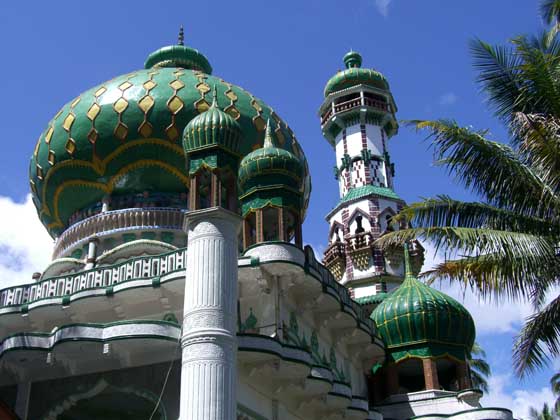 Beautiful mosque on the way from Parapat to Bukittinggi.
What to do at Bukittinggi
On the southwestern edge of Bukittinggi you can find the remarkable Ngarai Sianok Canyon. It is truly a geographic wonder. You should visit the canyon in the early morning, for a view you will never forget. For the best view, you should go to Panorama Park, also a popular spot for locals. The canyon is a part of a tectonic rift valley, over the entire island.
The main landmark within Bukittinggi is the clock tower, known as Jam Gadang, which means Big Clock. It is located at the market square, where you can do some great souvenir shopping.
If you are interested in Minang culture, you can attend a dance performance at the museum's open stage. You can do so on every Sunday and on public holidays. You can also attend night dance performances at Sliguri. At Padang Lawas (6 kilometers south of Bukittinggi) you can check out bullfights every Tuesday at 5.00 p.m.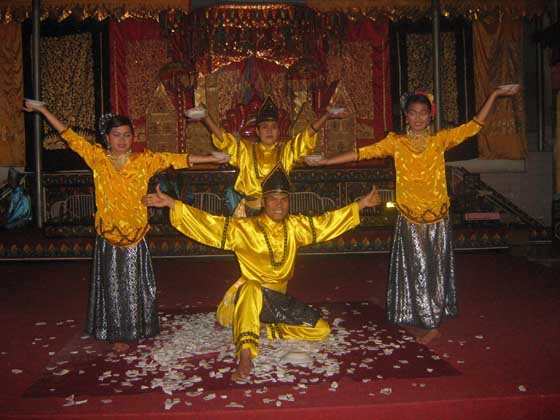 Traditional dance at Bukittinggi.
Bukittinggi has a colonial past which you can view at the ruins of Dutch fortification Fort de Kock. Fort de Kock is built in 1825. Not much of it remains, but there is a lookout tower where you can watch the sunset and have a nice view on Mount Marapi (Fire Mountain), which sometimes lets out plumes of smoke.
If you are looking for some exercise, you could make a hike to Kota Gadang, which will take an hour. Kota Gadang is a small village of silversmiths. Here you can buy different kinds of silverware. If you don't want to walk, you can reach Kota Gadang by opelet (local bus) from Aur Kunung bus terminal. Some operators in Bukittinggi also run tours to Kota Gadang. Most of the houses that are now in use by the silversmiths in Kota Gadang date back from colonial times, when the Dutch built their holiday homes here.
The Rumah Gadang Museum near Bukittinggi is worth a visit. This is a traditional extended family house, built in the 19th century.
Some other nice places to check out from Bukittinggi are Harau nature reserve, the Pagaruyung Minangkabau palace, Lake Maninjau and Lake Singkarak.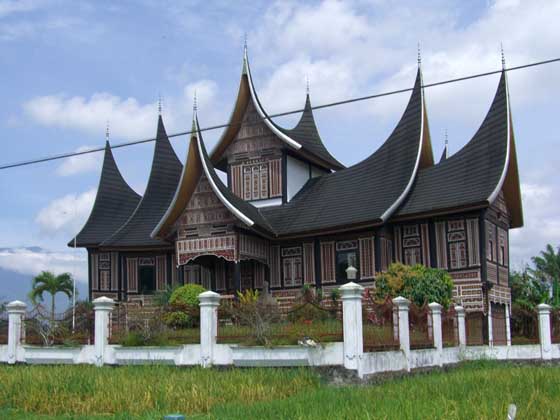 Beautiful Minang house at Bukittinggi.
Where to sleep at Bukittinggi
You can stay at various hotels in Bukittinggi. The Novotel Coralia Bukittinggi hotel has a great view on the Anai valley. Lima's Hotel, Hotel Asia and Hotel Denai are good hotels too, and are locally known as 'superior hotels'.
Bukittinggi places to eat
Simpang Raya is a big, popular restaurant, located in Jl. Ahmad Yani. Here you can eat some good-quality Padang food, as well as basic Indonesian dishes like soup, rice and noodles. Most food here is spicy, but you can always check with the waiter before you order something.
Shopping in Bukittinggi
In West Sumatra and especially in Bukittinggi and Padang, you can get some of the most beautiful handicrafts, like wood carvings and hand woven Minang fabrics. In old Dutch houses in Kota Gadang, the best silver shops in the region are housed. If you are looking for traditional songket weavings and wood carvings, you should visit Pandai Sikat.
If you would like to soak up Bukittinggi's local market atmoshpere, Pasar Atas (Upper Market) is perfect. It is just south of the clock tower, and here you can find stalls and shops selling everything, from souvenirs to everyday goods.
If you haven't found the perfect souvenir at Bukittinggi's Pasar Atas, there are also some souvenir shops at Jl. Ahmad Yani.
At the market shops in Bukittinggi, you can find some beautiful embroidered Minangkabau garments. You can also buy great souvenirs here like wedding sashes, head pieces and pillow cases.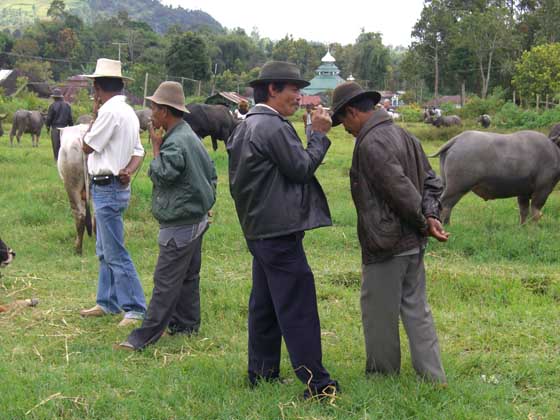 Local cowboys at a cattle market near Bukittinggi.
Getting around in Bukittinggi
In Bukittinggi, everything is within walking distance, because the town centre is so compact. Bukittinggi is a nice place to just wander around, so be sure to bring your walking shoes, and have a chat with the friendly locals.
You can also get around by taxi and bus. You can find the bus terminal in the south of the town.
If you prefer privacy, a rented car with chauffeur is the best choice.
Another way to move around town, is by using horse carriages or sado, which is a colorful, charming way of transportation.
How to get to Bukittinggi
You can get to Bukittinggi by airplane. It will take about 2 hours when you fly from Jakarta to Minangkabau International Airport. When you arrive there, you can use a taxi or bus to go to Bukittinggi.
When you leave from Padang, it will take you 2 hours (90 km) by car, through the beautiful Anai Valley up to Agam Plateau.
You can take a local bus (they run frequently) from Padang to Bukittinggi, or you can take a cheaper shared minivan, which departs from Minang Plaza.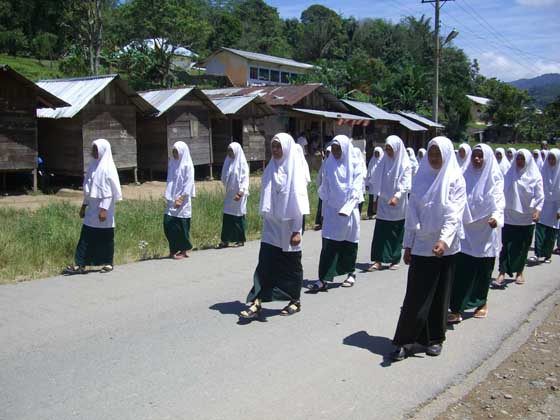 Practicing the parade for liberation day at Bukittinggi.