Berastagi
Berastagi is a picturesque town in the Karo highlands. It is located 70 kilometers from Medan, on the way to Lake Toba. It has a cool climate, because it has an altitude of 1300 meters. This makes the days very pleasant, and the nights a bit cool. Berastagi was developed around 1920 as a Dutch hill base. It is a destination for inhabitants of Medan, who visit Berastagi in the weekend.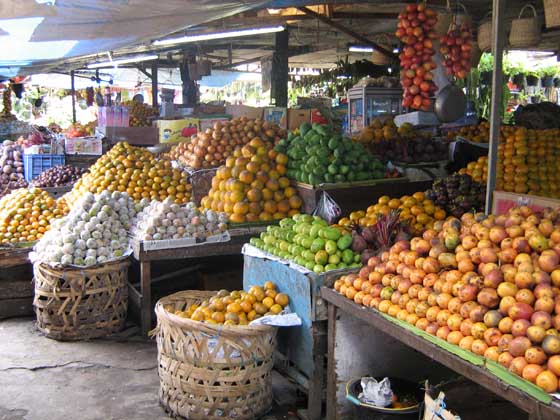 The beautiful fruit market at Berastagi.
The landscape of Berastagi is dominated by views of Mt. Sinabung and Mt. Sibayak, volcanoes that still smoke today. Berastagi has some spectacular views on the western side of the town, where the Gundailing Hill rises above the surrounding plateau.
Berastagi is known for its busy markets, flowers, vegetables and fruits. Marquisa or passion fruit is probably the most famous fruit. You should also try some sweet oranges. Some of Berastagi's produce is exported to Singapore and Malaysia, like cabbage, carrots, tomatoes and red chili. When wandering around the markets, you will see what traditional Karo life is all about, and you will see some things like jungle miracle cures and second hand shoes for sale.
What to do at Berastagi
Berastagi is an excellent place to escape the heat and enjoy the cool climate, and have some beautiful views. If you are a bit adventurous, you could climb both Mt. Sibayak and Mt. Sinabung. This is possible in a day if you are fit enough. Do not climb when you're alone though, it is very easy to get lost since trails are not always marked.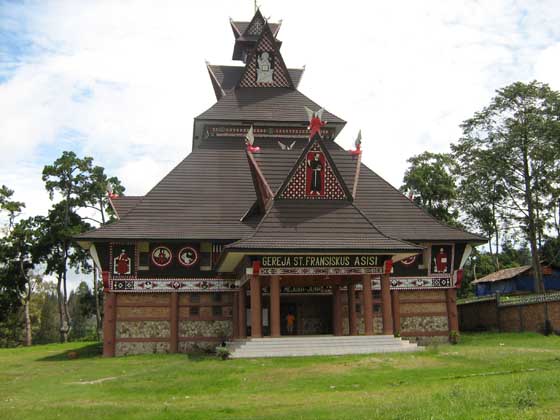 Catholic church in traditional Karo style at Berastagi.
Some hotels and resorts have the possibility of taking golf courses, with the beautiful view of the two volcanoes.
At the markets, you can buy some delicious and fresh tropical fruits and vegetables. There are three markets in Berastagi: the beautiful general market behind the bus station that takes place everyday except for Wednesday and Sunday; the fruit market to the west of the roundabout, that takes place everyday where you can also buy souvenirs; and the Sunday market on the top of Gundaling Hill, that takes place every other week and where you can see novelty acts like the snake charmer and the teeth-pulling man.
When you go into the surrounding Karo highlands, you will find nice hot springs, pine forests and traditional villages.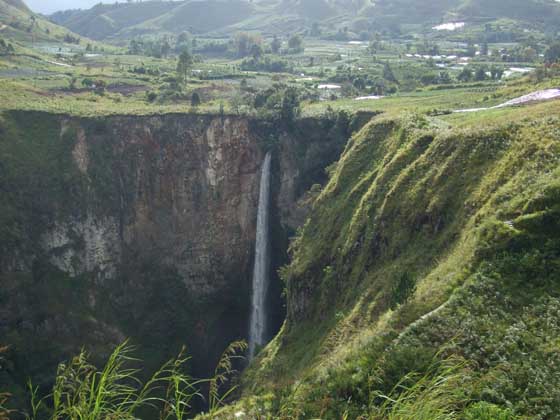 Sipisopiso waterfall finding it's way to Lake Toba, just a few kilometres from Berastagi.
In the villages surrounding Berastagi, some good examples of traditional Karo Batak architecture can be found. The most famous one is Lingga Village, where you can find around a dozen traditional houses, known for their distinctive horned roofs. Lingga Village is about 15 kilometres from Berastagi.
Where to sleep at Berastagi
In Berastagi, you can sleep at some pleasant hotels in colonial style, with golf courses (especially at Gundaling Hills). You can also stay at various inns around Berastagi.
Where to eat in Berastagi
Like in other Sumatran regions, food in Berastagi is spicy. You could try some local dishes like Chicken Rice and Medan KweTyaow.
If you don't like spicy food, Berastagi also has many restaurants serving Western cuisine, in different price ranges.
Since Berastagi is an agricultural town, you can find a lot of fresh and delicious fruits and vegetables. Along Jalan Veteran, various food stalls can be found. Here you can buy things like the famous Marquisa passion fruit and sweet oranges, a specialty of Berastagi. The local fruits are delicious and healthy desserts or snacks.
If you want to, you can also drive to Medan to go to Merdeka Walk. It is one of the most popular places to hang out in Medan, and here you will find a lot of cafes and restaurants.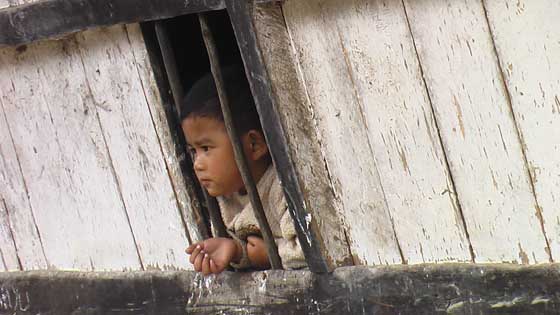 Little Karo boy at the village of Lingga, near Berastagi.
Shopping in Berastagi
Along the main street of Berastagi, lots of restaurants and hotels can be found. Here you will also find some souvenir shops and the central market. At the souvenir shops, you can buy things like Batak Ulos-hand woven cloth from Medan, batik, rattan plaitwork, paintings and carvings, which make great gifts for family and friends.
Getting around in Berastagi
Berastagi is easy to explore on foot or by public transport, since it is small and only has one main street. To get to the surrounding villages, you can use opelet, which are local public mini van buses. They run from the bus terminal.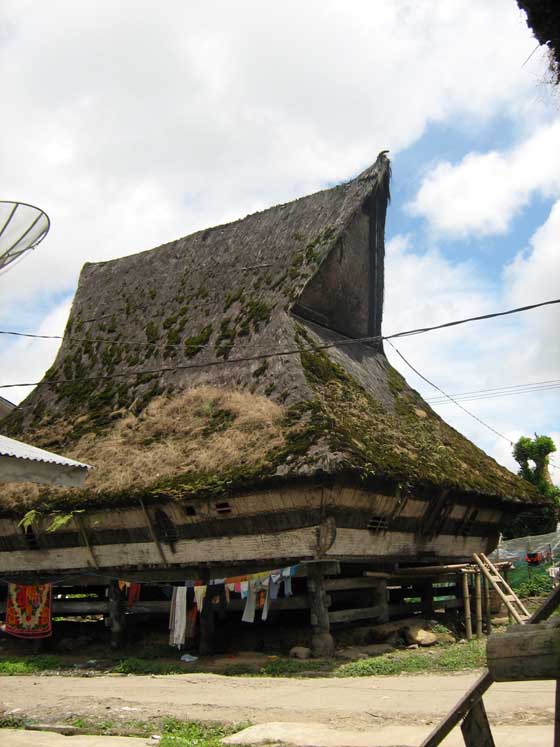 Traditional Karo house at the village of Lingga, near Berastagi.
If you want to have more flexibility, you can rent a motorbike at Villa Flores Restaurant or other rentals around town. Getting around Berastagi the traditional way is also possible: take a ride in a sado, which is a horse carriage.
How to get to Berastagi
You can take a bus or taxi from Polonia-Medan International Airport to Berastagi. Berastagi is around 66 kilometres from Medan, and it will take about 2 hours to get there.