Parapat
Parapat is a small town in North Sumatra province on the shore of Lake Toba. Parapat is the primary transit point by boat for visitors going to Samosir Island. Parapat is an interesting town with a nice market, lots of hotels and a few restaurants in the main street.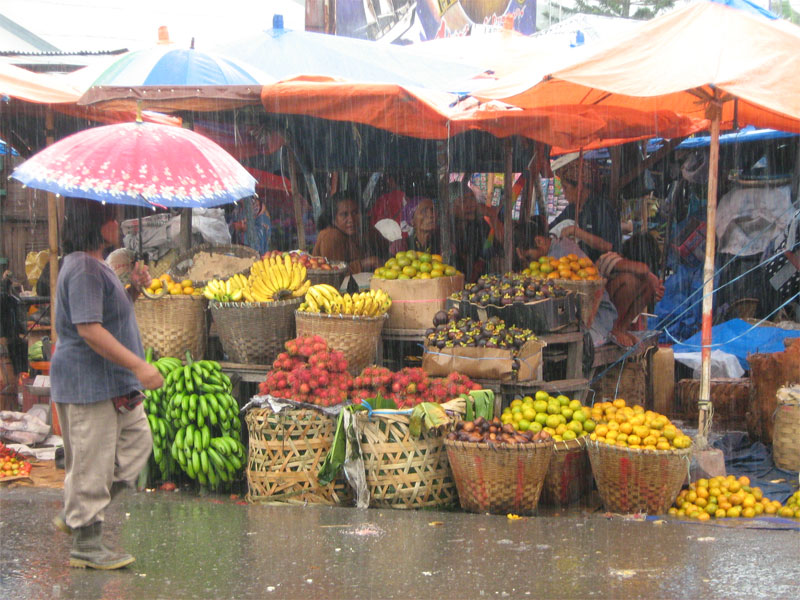 Rainy day at the Parapat market.
Sightseeing in Parapat
Tigaraja market
Every saturday there is a busy market at Parapat, right at the shore of Lake Toba. You will be overwhelmed by colors and odours - some are not too pleasant, especially at the area where fish is being sold. Across the street is the part of the market where clothes and other goods are being sold. Never forget to bargain.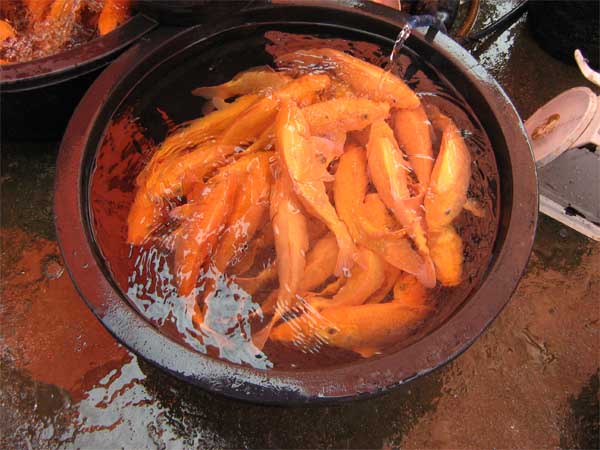 Not for your aquarium.. Goldfish sold at the market in Parapat is considered a local delicacy.
Monkeys at Sibaganding, just 5 km from Parapat
About 5 km's from Parapat in the direction of Pematang Siantar, you can watch and feed monkeys at Sibaganding. You cannot bring your own food and give that, but you have to buy banana's or oranges from the people who work at Sibaganding. There are several kinds of monkeys, including the black Siamang (a kind of Gibbon). Because the monkeys are being fed here, they tend to be very cheeky. So be careful about your belongings.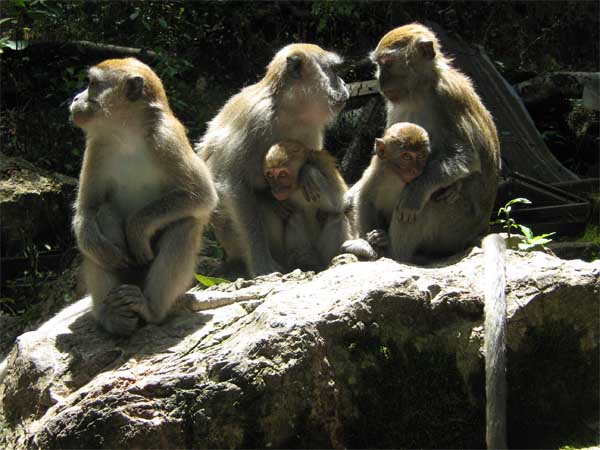 Some monkeys at Sibaganding, just a few kilometres from Parapat.
How to get to Parapat
Parapat can be easily reached from the city of Medan in around 4-6 hours. There are a number of transport options to get to the town of Parapat.
Public bus to Parapat
If you are on a budget, the best option is to take the public bus. From Medan public buses regularly go to Parapat. This is the most affordable way to get to Parapat. They will all drop you off at the bus terminal, which is a bit too far to walk to your hotel. Some of them will however drive to the shore of Lake Toba, but none of them will tell you that. Probably they have some deals with the local minibus drivers who want to squeeze some rupiahs out of you too. So make sure you ask before you get on the bus whether it will take you to the edge of Lake Toba (from where you can easily walk to most of the hotels). You can ask some locals on the bus as well of course. Ask if the bus goes to Tigaraja, the place where the market is on saturdays. This is also the spot where boats leave for Tomok, Ambarita and Tuk-tuk on Samosir Island.
Taxi to Parapat
If you aren't on a tight budget, using a taxi service to get to Parapat is recommended. Public buses in Indonesia have a bad habit of packing people in, sometimes with two people to a cramped seat. Smoking is allowed on public transport making the trip potentially very uncomfortable. A taxi trip from Medan to Parapat will cost you around Rp. 450.000,-. If you can arrange a taxi or mini-van with some other people you can of course share the costs.
Raja Taxi operates new and modern mini-vans, seating up to seven passengers. They have air-conditioning and smoking is generally not allowed. You can book tickets through your hotel in Medan or by calling: Raja Taxi +62 (0)617 366-555.
An alternative taxi company is Paradep Taxi, phone +62-61-7361185. Email : paradeptaxi@hotmail.com They are based out of Medan.
Hotel pickup
The most comfortable way to get to Parapat probably is to ask your hotel to pick you. Sometimes this can be cheaper than a taxi drive, but most of the times you pay a bit more. Just ask your hotel.
By train to Pematang Siantar
There is a train which travels from Medan, but unfortunately it does not go all the way to Parapat. The train reaches the city of Pematang Siantar (which is closer to Parapat) or Tebing Tinggi, and then you will need to take the bus or a taxi to get to Parapat.
Money
There is a BNI branch in Parapat which accepts most major cards. It is a good 15-20 minute walk to the ATM from the ferry terminal.