Banda Aceh
Banda Aceh is the capital and largest city of the province Aceh and is home to over 200,000 people. Banda Aceh is located at the most northwestern tip of Sumatra and Indonesia. Banda Aceh has had several names, such as Kutaraja, which refers to the founding of the Aceh Sultanate but later on the city was named Bandar Aceh, with Bandar meaning port in Persian. This name suits the city perfectly as the Islam culture firstly arrived in Aceh and after that spread throughout Indonesia. Even though around 60% of the buildings in Banda Aceh were swept away during the tsunami of 2004, the damage of the tsunami is not that apparent anymore because of all the infrastructural and constructional developments. Furthermore, some old and cultural important buildings remained standing during the tsunami. Banda Aceh offers some stunning beaches like Ulee Lheue with beautiful sunsets.
Things to do at Banda Aceh
Mesjid Raya Baiturrahman
Mesjid Raya Baiturrahman is a beautiful mosque, the largest mosque of Banda Aceh, and was built mainly by the Dutch in 1879.
Kerkhof
Kerkhof is the largest Dutch Soldier Cemetry, only another one in its mother country, Holland, is larger. All these graves belong to the Dutch soldiers who died and were buried after the Aceh War had finished in 1902.
Lambaro
Lambaro is one of the four mass graves in Banda Aceh. 46 000 unidentified bodies are buried here; at this location the impact of the tsunami of 2004 is really apparent.
The mausoleum of Sultan Iskandar Muda
This is the grave of Sultan Iskandar Muda, who was the twelfth sultan of Aceh. The surroundings and the Museum Rumoh Aceh opposite of the mausoleum make the mausoleum an interesting place to visit.
Aceh House
Several traditional Aceh houses can be found in Banda Aceh. These wooden houses on poles are a pleasant sight.
Ulee Lheue
This is a breathtaking beach nearby Banda Aceh. Ulee Lheue is the perfect place to relax and enjoy the view. The Baiturrahim Mosque at Ulee Lheue is worth a visit, too.
Tsunami Ship
The Tsunami of 2004 left many boats scattered all over Banda Aceh, most of them are fishing boats. One of these boats was the Apung 1, an over 15 meter boat kilometers from the ocean. All of the Apung 1 crew survived, but it is said that some victims of the tsunami are still underneath the Apung 1, together with their former, flattened homes.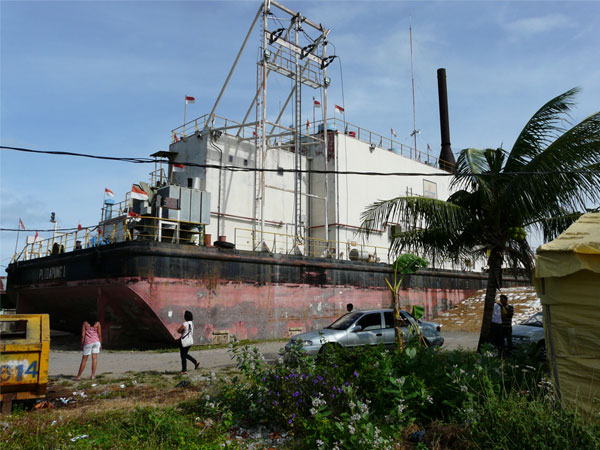 Banda Aceh - The Apung 1, a 2600 ton vessel that washed ashore some 3 km inland, by the devastating 2004 tsunami
Banda Aceh places to eat
Banda Aceh is home to some local dishes which should be consumed when visiting Banda Aceh. A perfect example is Nasi Gurih, steamed rice in coconut milk. Banda Aceh is also known for its Kopi Aceh, a delicious and local variation of coffee. The last must-eat is Mie Aceh, a spicy noodle-dish with meat or seafood which is served in two variations; fried noodles ('Mie Aceh goreng') or noodle soup ('Mie Aceh Kuah').
Where to eat
Mie Razali, Jl Panglima Polem 85, Peunayong, Banda Aceh; for Mie Aceh and various other noodle dishes
Mie Lala, Jl. Syiah Kuala, Banda Aceh; for Mie Aceh
Nasi Gurih Fakinah / Briani Buk Ros Fakinah ? Erin stoppen?
Black and White rumoh kuphi, Jl. T. Umar No. 19 Banda Aceh, for Kopi Aceh, Mie Aceh and several fresh juices. Free wifi is available.
How to get to Banda Aceh
Sultan Iskandar Muda Airport (BTJ) is the fairly large airport of Banda Aceh. Several airlines fly to and from BTJ such as Garuda Indonesia, Lion Air and Firefly (a subsidiary airline of Malaysian Airlines). Flying to Banda Aceh is the best option because of its location and the bad quality of the roads to Banda Aceh. However, met de auto kan natuurlijk ook, zie je ook nog eens wat van het binnenland la bla.
Shopping in Banda Aceh
Markets
Several markets can be found in the city centre of Banda Aceh and they are a feast to the eye. A great option is the Pasar Malam Rek, a vibrant night food market situated at the junction of Jl Ahmad Yani and Jl Khairil Anwar.
The Pasar Ikan Batoh offers plenty of fresh fish. The location, Jl. Muhammad Hasan, is right next to the river so you can watch the fishermen approach the market and seeing them unload their cargoes of fresh seafood.
Pasar Aceh Central is the market where lots of inhabitants of Banda Aceh do their grocery shopping. Jl Chik Pante Kulu and Jl Diponegoro E of Sungai Krueng is the setting of this market, located just to the north of the Mesjid Raya.
Malls
Hermes Palace recently opened in the city centre of Banda Aceh and has more than 100 stores including a foodcourt.
Where to stay in Banda Aceh
Although Banda Aceh has several good hotels for different budgets, most travelers opt to go to Weh Island and spend their nights there.
Some hotels at Banda Aceh are:
Getting around in Banda Aceh
Just like almost any other Indonesian city, a lot of becaks are zooming around in Banda Aceh. The fare for a trip in a becak is fairly cheap, depending on the distance travelled in it. Taxis and minibuses known as labi-labi are also used very often to get around town.