Bandung
Bandung is a town that offers great promise for shoppers. You may be overwhelmed with the large number of factory outlets scattered along Dago (Ir. H. Djuanda), Riau (R.E. Martadinata), Cihampelas, and Setiabudi. Here you can shop to your heart's content and grab famous brands, trendy fashion and a lot more. Unlike the real Paris though, the clothes here are surprisingly affordable! Looking for the new design of jeans? Just stop by at Cihampelas street. Buy something here and their collections will brighten up your wardrobe in an instant.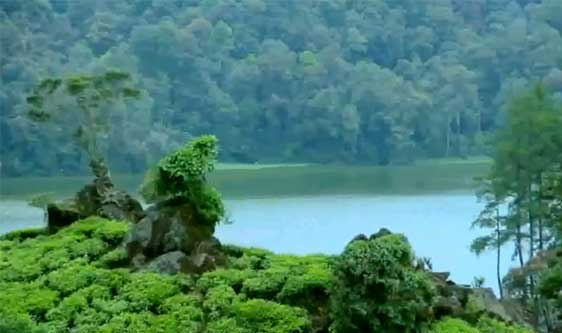 View over the lake at Patengan, near Bandung
Just a 30 minute drive from Bandung and you'll be greeted by the natural beauty of the hills and valleys. Refresh your mind and unwind through a pleasant journey to Lembang, north of Bandung. On the way, stop at POM TAHU that sells the famous Tahu Lembang (Lembang tofu) and fresh milk in various flavors. Around this area, you can pick your own strawberries while breathing in the fresh air of Lembang and let your small kids have fun with outdoor activities, like a mini flying fox, pool rafting, and balloon walker. Get your adrenalines pumping by trying outbound activities at Imah Seniman, Lembang. For the adventurous, drive up the hills pass exhilarating tracks by ATV (All Terrain Vehicle), fly through the sky with the Flying Fox, or enjoy the many fishing spots around here.
Extend your journey and take in celestial sights through the giant telescopes of Bosscha Observatory or drive further up to the Tangkuban Perahu Volcano. Walking around its famous craters (Kawah Ratu, Kawah Upas, and Kawah Domas) will be a remarkable experience. This is one of the few places in the world where you can see volcanic activity up close, and enjoy the local hospitality.
Do not forget to admire Bandung's art-deco architectural heritage found throughout the city. This will be a good opportunity to take a flash back in history. The Museum of the Asian-African Conference is definitely worth a visit and is one of the best preserved tropical art deco buildings, as are the ITB campus, the "Gedung Satay" governor's office, Villa Isola, and many more.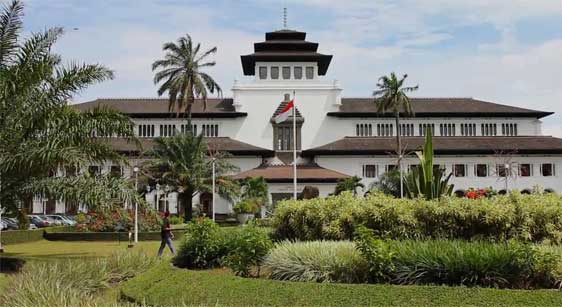 Gedung Sate, a landmark building at the city of Bandung
What to do at Bandung
Bandung is the capital of West Java and the third largest city in Indonesia, and is a great place to visit with its green mountains. Bandung is known for its universities and ICT technology, but also for its artistic center. A lot of young people from Jakarta visit Bandung to participate in its music, painting and fashion scene.
Bandung has a lot of beautiful art deco architecture, since it was originally established as a colonial garrison town, where European elite would settle in the era of art deco. Some examples of art deco architecture in Bandung are Villa Isola, the Concordia, the Braga shopping center, the former Society's Clubhouse which is nowadays the Asian-African museum and the Savoy-Hofmann and Preanger hotels. In the beginning of the 20th century, Bandung was known as the Paris of Java.
Bandung is also known for being the venue of the First Asian-African Conference in 1955, in which 29 leaders of Asian and African countries declared to fight colonialism. It also became known for producing textile for Indonesia's fashion wear.
In Bandung you can shop for fashion wear, taste some of the delicious local and international cuisine and take a look at the colonial European-style architecture.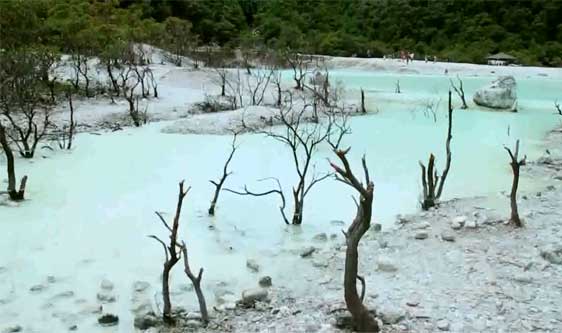 Dead trees at Kawah Putih, not far from Bandung
Where to sleep at Bandung
In Bandung you can stay at some very luxurious hotels, but also at more modest and reasonable priced hotels. Make sure to book in advance, since most hotels are filled up in the weekend by people from Jakarta.
Bandung places to eat
Bandung is an excellent place to eat. You can eat as luxury as you want, at some haute cuisine restaurants, or buy some delicious food from street vendors.
Sundanese (Sundanese people are the people living in West Java) food is known to be tasty but not very spicy. If you like your food a little spicy, just add some sambal dadak. Sundanese people like to eat a lot of vegetables, sometimes even raw ones.
The most famous dish is timbel, which consists of nasi timbel (steamed rice rolled in a banana leaf), lalapan (raw vegetables), sambal dadak, fried or roasted chicken, fried tempeh, a piece of jambal (salted fish) and fried beancurd. You can add gepuk (fried beef in traditional herbs), pepes (fish, chicken, mushroom etc. mixed with herbs, rolled into a banana leaf and steamed) and sauteed vegetables if you want to. Batagor baso tahu goreng is also a very popular specialty. It is made from fish, beancurd and a special peanut sauce.
A delicious sweet snack is pisang molen, a traditional pastry made of banana and cheese. You could also try brownies kukus, steamed brownies. On a hot day, try out es cendol (check out our recipe for es cendol), a drink made of palm sugar, coconut milk and ice. If it's colder, you could try bandrek or bajigur. If you like yoghurt, Bandung offers two kinds: a thin yoghurt and a thicker one.
You can buy all kinds of hot snacks throughout Bandung, like gehu-toge tahu (beancurd filled with beansprouts and vegetables), pisang goreng (fried banana) and cireng-aci goreng (fried tapioca). Some other delicious snacks are nangka goreng (fried jackfruit), nanas goreng (fried pineapple) and peuyeum goreng (fried fermented cassava). Or try some ketan bakar (roasted sticky rice) or jagung bakar/rebus (roasted/bolled corns).
Nasi goreng is originally not from Bandung, but it is a favorite among locals. Ingredients may vary, sometimes it is made with seafood, sometimes with chicken and vegetables etc.
Cakue is also very delicious. It is made of flour dough and then fried.
In Bandung, you can also eat non-Indonesian food at Padangese (very spicy food from West Sumatra), Javanese (which is sweeter), Chinese, Japanese, Korean, Western, Indian and other restaurants.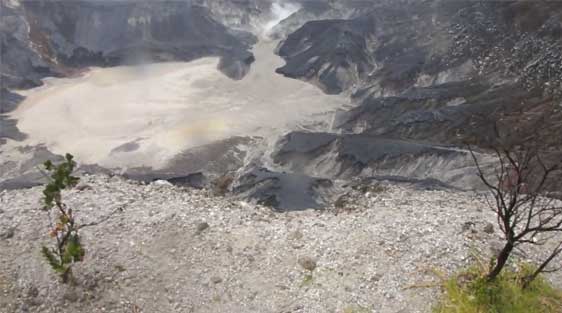 View on Tangkuban Perahu crater, near Bandung
Shopping in Bandung
Other than food items and drinks which you can buy at street vendors and in stores along Cihampelas, Kemuning, Dago, Riau, Sulanjana and Burangrang streets, you can also buy local handicrafts, like Angklung (a musical instrument made of bamboo) at Saung Angklung Udjo, Wayang Golek (Sundanese wood puppet) at Galeri Cupumaik, crocodile skin handicrafts (but don't buy these products - it is illegal to bring it back with you in most western countries) and wood carvings at Toko Sin Sin Souvenir & Antique Shop. At Dutch colonial shop (Jalan Cihampelas 39), you can buy souvenirs like key holders, pins, T-shirts and bamboo pens.
Bandung is also a great place to shop for fashion and accesories.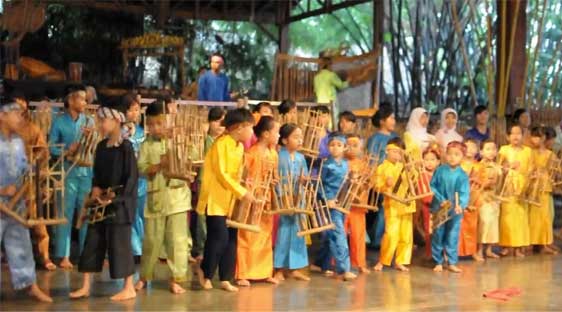 Angklung performance by children, Bandung - Indonesia
Getting around in Bandung
If you arrive at Bandung airport, it is very easy to reach Bandung, it is only 4 kilometers away. You can take a taxi which will cost around $6. A lot of hotels in Bandung offer free airport transport service. If you let them know in advance when you will arrive, they will pick you up at the airport.
The most common transportation in Bandung is the Angkot, which stands for Angkutan Kota (Indonesian for 'city transport'). It is very cheap, actually the cheapest mode of public transportation in Indonesia. Angkot are very brightly coloured minivans, in colours like green, pink and yellow. They have only one entry and exit door and two long seats facing each other. If you want to stop and get out, just say 'kiri' (which means 'stop here' or 'left'). Angkot have no fixed prices, but it will cost you less than a dollar. Make sure to ask about the price before you get in. Hailing Angkot is the same as hailing a taxi.
If you don't feel comfortable travelling in an Angkot, you can also get around in a taxi. The most reliable taxi service is Blue Bird. All official taxis have meters, so try to avoid unmetered ones.
A fun way to get around in Bandung is renting a car. You can find a lot of reliable car rentals in Bandung, like Cipaganti, Lysan, TotalCarRental and Dirgantara.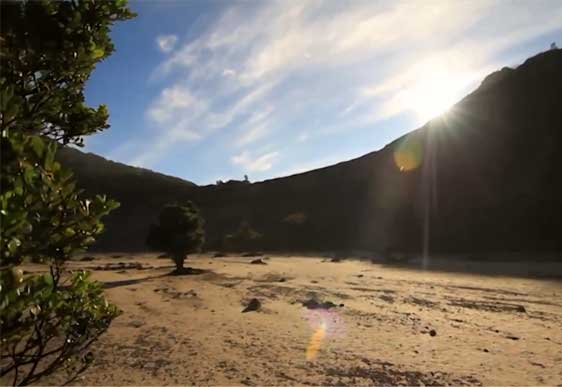 Sun peeking over the rim of Tangkuban Perahu crater, near Bandung
How to get to Bandung
It is very easy to get to Bandung. You can get there by various modes of transportation:
By airplane
You can reach Bandung by airplane. Air Asia has flights from Kuala Lumpur, Bali and Medan to Bandung and back. Malaysia Airlines also has flights between Kuala Lumpur and Bandung. If you travel from Jakarta, you can fly with Deraya Airlines.
Merpati Nusantara Airlines has flights from and to Bali, Labuan Bajo, Surabaya and Medan. Don't forget to book a ticket beforehand, to make sure you have a seat.
Wings Air, which is subsidiary of Lion Air, has flights from and to Bengkulu, Palembang (South Sumatra) and Tanjung Karang. You can also fly with Sriwijaya Air and Susi Air.
By train
Travelling by train provides nice views on beautiful green hills, rice paddy fields and tea plantations. When you depart from Jakarta, it will take you around 3 hours.
PT KAI Persero (Kereta Api Indonesia) has good train services, from a few cities in Indonesia to Bandung and back.
From Jakarta: Go to Gambir Train Station, take the Argo Gede train. It is a comfortable and fast train. The first train leaves at 5.30 a.m. and the last train leaves at 8.30 p.m. on weekdays, on Sunday it leaves at 9.30 p.m.
From Surabaya: Go to Surabaya Gubeng Train Station. Here, you can choose from several trains: Turangga (executive), Harina (executive), Argowilis (executive) and Mutiara Selatan (business). The first train leaves at 7 a.m.
For more information, go to www.kereta-api.co.id.
By bus and shuttle car
You can also take the bus to Bandung, which is very convenient as well. The buses are operated by Primajasa, and they will take you from the Soekarno-Hatta Airport in Jakarta to Bandung Supermall. It costs around $US 8.50 per person.
Another possibility is traveling by shuttle car, if you want to travel more privately. Shuttle cars like X-trans, Cipaganti and Primajasa can be found at the airport, and are safe and reliable. It costs around $US 14.00 per person.